Ever since I was a child, attending school and assisting others during their time of need were important. I inherited my love for knowledge and compassion towards others from my parents who encouraged me to study and pursue my dreams. I was born on December 23, 1972 in Fez, Morocco. My family was far from affluent, but the love and attention that I received from them outweighed our hardships. At age 7, I left my home to attend a residential school for the blind located an hour away from my family. I had lost my vision at age 5 as a result of an accident. The public schools were not equipt to dealing with the needs of the blind.

While at the residential school, I learned Arabic braille and engaged in other academic studies such as geography, science, and math. I remained at the school throughout the elementary grades. Then I enrolled at the blind school near my home. There, conditions were poor. Little care and attention were paid to the emotional and physical needs of the students. Materials in braille were scarce and some of the staff were not trained to work with the blind. We learned primarily by rote memorization.

However, my love for knowledge and compassion towards others never faded. I loved life and wanted to use my talents to help those in need. Whenever feasible, I assisted students in wheel chairs and taught them to be more self-reliant. When not assisting others, I listened to educational radio programs or wrote poetry which I submitted to writing contests.

In 1995, a visit to the United States with a Peace Corps instructor for the blind who was assigned to teach at my school tremendously impacted my educational goals. Prior to my visit to the states, I wanted to simply counsel others. The trip, however, enabled me to realize I wanted to help the blind in my country obtain assistive technology and be productive members of society. While in the United States, I had the opportunity to visit a residential school for the blind and to be exposed to the technologies available to them.

It is my hope that my quest for college funding to study in America will help me make my future dream of assisting the blind worldwide possible.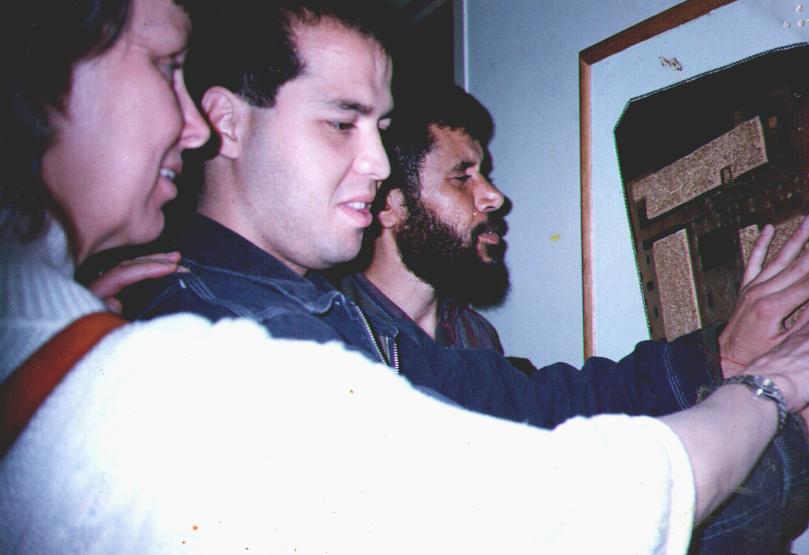 Exploring art with friends at the school for the blind in California. I am in the middle.